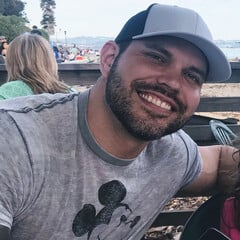 Brad Myers
Principal/Lead Character Artist: bradm3d.com
Seattle, WA, United States
Summary
I have been working in the games industry since 2008 for companies such as Zenimax, Activision, Disney and Fox. Shipped titles include Call of duty: Vanguard, Call of Duty: Blackops Cold War, Aliens: Fireteam Elite, Doom, Rage and Firefall. I have worked extensively on 3d characters, environments, weapons, props, and vehicles. Essentially anything 3d that needs to be made game ready. I have been responsible for modeling high and low poly, baking, texturing, materials including pbr, lighting, effects, and level building. I have experience with basic rigging, posing, and promotional art as well. I have worked in Unreal, id studio (id software engine), Radiant (call of duty engine), marmoset and Unity. I am currently working for Probably Monsters in Seattle WA on an undisclosed title.
Skills
Digital Painting
Environment Design
Shading
Character Modeling
Digital Sculpting
Environment Modeling
Prop Modeling
Weapon Modeling
Vehicle Modeling
PBR Texturing
Physically Based Rendering
Software proficiency
Productions
Video Game

Call of duty: Vanguard

Year

2021

Role

Character Artist

Company

Sledgehammer Games

Video Game

Aliens: Fireteam Elite

Year

2021

Role

Senior Character Artist

Company

Coldiron Studios

Video Game

Doom 4

Year

2016

Role

3d artist / level designer

Company

Escalation studios: contract for id software.

Video Game

FireFall

Year

2014

Role

3D Artist

Company

Liquid Development
Experience
Character Artist at Sledgehammer Games

Foster City, United States of America

Create Characters for Call Of Duty 2021 Video Game

Senior Character Artist at Cold Iron Studios

San Jose CA, United States of America

Made Alien and Marine character models for: Aliens: Fireteam Elite for Fox/Disney


3d Artist at Escalation Studios

Dallas, United States of America

Worked on a wide range of games and projects, some of the most notable are "Rage" and "Doom4". I Created anything art related that needs to go in the game. Also have done some level design, lighting, and fx.